Watson Review Key To Free Agency Direction
February 9th, 2014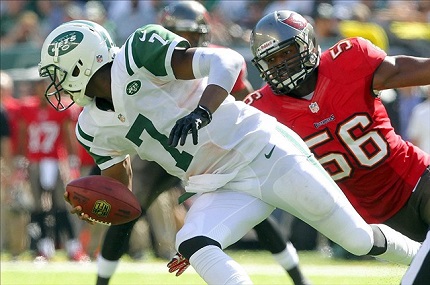 A huge Bucs X-factor this winter is how Lovie Smith and friends evaluate unrestricted free agent Dekoda Watson.
Why? Because Watson has shown an ability to rush the passer.
Previous regimes gave him little shot to do that, but if the new staff evaluates Watson and sees a guy that can get to the quarterback, then Joe has no doubt they'll make Watson an offer he can't refuse before the free agency bell rings in March. Lovie's too smart to let go of young talent that can pass rush.
Frankly, if Joe hypothetically was told he had only one snap to sack a quarterback and could pick both the edge rushers for that play from the Bucs roster, Joe would finger Watson as one of the two DEs. That doesn't say much, but it's noteworthy. Watson has skills and speed.
Perhaps savvy defensive minds and coaches like Lovie and Leslie Frazier see Watson as a legitimate situational pass rusher, in addition to his special teams prowess and linebacker experience? If so, with that kind of perceived versatility, Watson likely would qualify as a "value" free agent coveted by new general manager Jason Licht.
Watson is arguably the best athlete on the Bucs roster. He's also a devoted teammate and a guy who doesn't sniff any trouble. But all that doesn't mean much. Joe suspects Watson will remain a Buccaneer if, and only if, the team thinks he can come off the edge.