Need No. 5
February 5th, 2014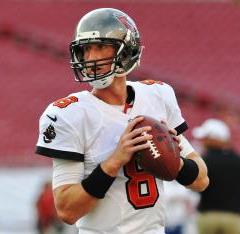 Why does Joe place such a high priority on quarterbacks? Why does Joe always say quarterbacks lead? Because there is no other position that demands a player touch the ball virtually each and every snap.
Quarterback has evolved to the point where the game is approaching flag football status. If you don't have a decent quarterback, you are sunk. It's that simple. Oh, people can holler that defenses win games, but if you can't score, you won't go far. Denying that having a decent QB is vital for postseason success is the equivalent to the employed crazy person who walks down the sidewalk and claims to no one in particular that he doesn't have to pay taxes. Sooner or later, the IRS will take a big ol' bite out of his rear end.
As Warren Sapp is famous for saying, a defense will give you a chance but you still have to score. He knows from brutal experience.
Joe is pretty sure the above reasons somewhat factored into the decision by ESPN's Pat Yasinskas; he picked the Bucs' quarterback position to be (at least) their No. 5 need.
Let's start with No. 5. I'm going with quarterback here, although the need could be much higher or lower depending on what the new regime thinks of Mike Glennon. The early comments from the coaches about Glennon have been positive and I think that's more than just lip service. There still is more evaluation to be done by the new staff, but I'm hearing there's legitimate optimism that Glennon can be the starting quarterback.

If that's the approach the Bucs take, it would free them up to address some other positions of greater need early in the draft and in free agency. If the Bucs somehow decide Glennon is not the answer or they're uncertain about him, they're going to have to use a high draft pick on a quarterback or sign one in free agency.
Of course the new regime is going to say things nice about Glennon. What happens if Bucs general manager Jason Licht strikes out in obtaining either a free agent quarterback or misses out on drafting a quarterback? Glennon is then the de facto starter before training camp. There's no need to bury the guy. 
Besides, there still may be a chance (though Joe is skeptical) that Jeff Tedford can wave a magic wand and turn Glennon into a top shelf quarterback. Time will tell.
If the rumors are accurate that the Bucs are in serious talks to land Michael Vick, then that tells Joe at best the Bucs are not totally sold on Glennon and that Vick, at least, is a safety net.