Lovie Takes Firm Line On Mike Williams
February 20th, 2014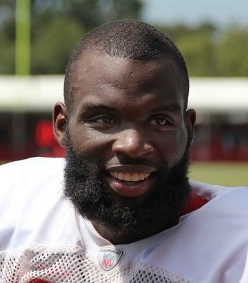 Lovie Smith is not one to brush off players' funny business inside and outside of One Buc Palace.
You could just see — and hear — the frustration on Lovie's face this afternoon when he spoke about Mike Williams before Joe and other media types at the NFL Scouting Combine in Indianapolis. 
Lovie was asked about dealing with Mike Williams' minor misdemeanor charges in Hillsborough County and other allegations surrounding the Bucs' No. 2 wide receiver.
"I'm disappointed," Lovie said about Williams. "We're disappointed on some of the off-the-field issues that have come up. We just, you know, we just won't put up with it. It's as simple as that. But coming in new you have to kind of set your program up on how you're going to do things, and that takes a while to get that done. Just him as a football player, he was like the rest of the team. Saw some good things that he did, but there are things that we need to improve upon also."
Joe's confident Williams will get a clean slate. His connection with "Doorgate" happened in December, before Lovie was hired.
Bucs players report back to work on April 7 and, per Lovie, and they will learn what's expected of them immediately. Joe suspects they'll hear that line he dropped today a few times: "We just won't put up with it."