Lovie: Glennon Needs Pocket Mobility
February 21st, 2014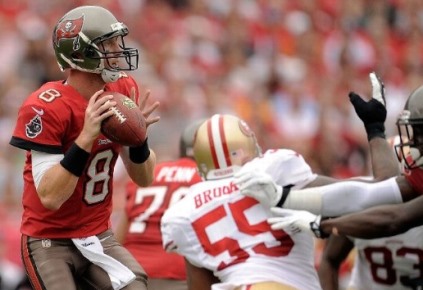 The Buccaneers' fearless leaders, Lovie Smith and Jason Licht, praise Mike Glennon for being a steadily improving rookie with a great work ethic and strong throwing skills. On the other hand, they won't dare call Glennon their starting quarterback.
Some Bucs fans inexplicably think that's normal, despite the fact 14 of 16 starting quarterback jobs in the NFC already are established without controversy.
Yes, only the Bucs and Vikings have QB questions in the NFC.
Joe had a candid chat with Bucs quarterbacks coach Marcus Arroyo about Mike Glennon, and now Lovie is echoing an area of Glennon's game Arroyo also says needs improvement.
"Mike's the first to tell you he needs to work on mobility in the pocket," Lovie said yesterday on NFL Network.
Yes, Glennon, for a pure pocket passer, isn't silky smooth in the pocket like Falcons star Matt Ryan is. Glennon doesn't step up and side-step very well. And, like Ryan, he doesn't move out of the pocket with ease, though he was better than expected.
Glennon very well could win the starting job come September, but Joe believes that would mean another Bucs QB has underperformed. Joe can't imagine the Bucs go to training camp with Glennon as the most talented quarterback — raw talent — on the roster.