Johnny Football's Work Ethic
February 21st, 2014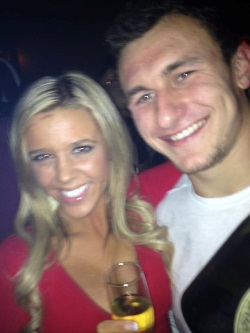 Hey, today is the day Bucs fans. The franchise quarterback of your dreams, Johnny Manziel, aka Johnny Football, is expected to take the podium to talk with Joe and other assembled NFL media at the NFL Scouting Combine from Lucas Oil Stadium in Indianapolis.
Joe is expecting a Manti Te'o-like mob scene for the former Heisman Trophy-winning quarterback and most exciting college signal-caller Joe can remember.
Yes, there are Johnny haters; Joe understands that. In Joe's eyes, far too many Bucs fans are content with mediocre if not boring play rather than excited the Bucs could land a quarterback for the ages (and who says the Bucs are picking at No. 7? Give Joe those Lotto numbers from that same crystal ball).
Joe understands if folks think that Johnny won't last in the NFL because he may be frail or smallish or perhaps doesn't have a John Elway arm. Those are legitimate concerns. What Joe doesn't get is people saying Johnny will be a cancer. Based on what? Because his girlfriend is well-endowed?
There has been nothing, absolutely no inkling or hint coming out of the state of Texas that Manziel has been anything of the sort. Joe spoke with his running back, Ben Molena, who called Johnny "the perfect teammate." Aggies wide receiver Mike Evans has said similar things.
Then there is All-World offensive tackle Jake Matthews of Texas A&M (who Joe sure wouldn't mind seeing on the Bucs). Matthews too was asked about Johnny being a noose around the Aggies necks and he quickly dismissed such nonsense.
"Everything I've ever seen him do is all out," Matthews said when asked about Manziel's worth ethic. "He worked hard at everything he did. When it was time to practice, he was out there competing just as hard as he would in a game. That's all I ever saw.

"There was definitely things he worked on all the time to try and get better at. My biggest thing was just trying to give him time because he's proved that he's gonna make plays. All I've got to do is try to give him those opportunities.

"I never really had to talk to him about anything (negative). He was always there for practice, always came in and worked hard. I never really had any issues with him."
Nor was Johnny selfish, per Matthews.
"No, I don't consider him a me-first guy at all," Matthews said. "My whole experience with him coming in as a quarterback was nothing but good things.

When he was on the field, he was just a tremendous competitor, great leader, someone that I loved playing for, and I was glad to have him as my quarterback."
A real cancer, huh? Selfish player, huh? Rotten to the core, huh?
Joe understands there are fans with legitimate fears of the Bucs pursuing Manziel. Just don't invent fairy tales to support your hatred of the young man.
Yeah, would trading up be a pinch in the price to get Johnny? Sure. But guess what the ransom for a quarterback will be if the Bucs are putzing around .500 and Mike Glennon doesn't work out, and the Bucs have to trade up from 12 or 18 to get a quarterback.
Be prepared for sticker shock then.
Joe is convinced people hate Johnny because they are jealous they couldn't pull in college.