Mike Williams Responds
January 31st, 2014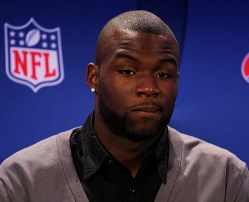 Yesterday, PewterReport.com had an explosive article that claimed Mike Williams was on the brink of being cut had former Bucs rock star general manager Mark Dominik and former commander Greg Schiano survived for another season.
Why? Williams had become lazy, per Pewter Report, and was not just channeling leaky Rip Van Freeman but was also getting deep into rap music.
The report also stated Williams racked up some $200,000 in fines for missing meetings and rehab appointments, and for tardiness.
Later in the day, it was learned that the NFL forbids teams from fining players on injured reserve and said players are not required to attend team meetings, thus cannot be fined for missing said meetings.
The ultimate source in this story, Williams, had his say, and much to the chagrin of his old coach, took to social media to air his grievances.
Joe is going to clean up what Williams wrote, but in a nutshell Williams said he will post Twitter and Instagram stuff to his liking and no one is forced to read what he posts. Additionally, Williams stated he has been rehabbing his surgically repaired hamstring the past "two weeks straight" and just because he doesn't Twitter about it doesn't mean he isn't rehabbing.
There were so many ways to look at the story but as Joe wrote yesterday, Joe was very sketical was that the Dominik/Schiano duo seriously considered cutting Williams for these alleged heinous sins and replacing him with the notorious Kenny Britt, who runs afoul of the law so often he owns a pair of monogrammed handcuffs.
So the alleged logic was the Bucs were going to cut a reliable No. 2 receiver because he is tardy to meetings and has unseemly friends and replace him with a guy who has a rap sheet as long as Joe's arm?
Last Joe checked, being late to meetings and posting odd things on Twitter and Instagram isn't quite enough to sentence said person to wear an orange jump suit and pick up trash along the interstate, or do time in the hole.