Johnny Football Hires Dubious Agent
January 10th, 2014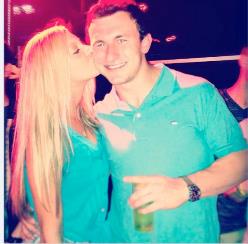 For the Johnny Football haters of the world who also masquerade as Bucs fans, your day has been made. Go out and celebrate.
Johnny Football has signed the notorious Erik Burkhardt as his agent, reports Liz Mullen of Sports Business Journal.
@SBJLizMullen: Johnny Manziel has signed with NFL player agent Erik Burkhardt of Select Sports Group, source says. … "Right now Johnny's focus is his training, working on his game & getting ready for the NFL Combine." – Johnny Manziel's agent Burkhardt:
Who is Erik Burkhardt, you ask?
He was also the agent of leaky Rip Van Freeman, who allegedly helped orchestrate the antics of Rip Van Freeman that helped Pearl Harbor the Bucs earlier this season. As Joe has written before, Freeman is at worst, indirectly responsible for three men losing their jobs and perhaps poisoning their careers: former Bucs commander Greg Schiano, former Bucs rock star general manager Mark Dominik and former Vikings head coach and new Bucs defensive coordinator Leslie Frazier.
Burkhardt, when given a forum, was quick to blast alleged leaks by the Bucs, asserting they dabbled in breaking Freeman's privacy in employee matters and those relating to federal privacy laws.
Yet the same nonsense that Freeman pulled in Tampa Bay continued in Minnesota. Funny how Burkhardt never pointed a finger at Minnesota as the root cause of Rip Van Freeman's irresponsibility. Frazier stuck his neck out for Freeman and was repaid by him being late to numerous meetings and eventually Frazier getting the pink slip.
Doesn't anyone find it odd that two days after throwing up over himself against the Giants for all the world to see on Monday Night Football, Rip Van Freeman came down with a mysterious concussion and couldn't beat out Matt Cassel nor Christian Ponder for playing time, not one single snap?
After the drama Team Glazer had to go through with Rip Van Freeman, Joe doubts Team Glazer would want to step in the same hole again.
Oh, Johnny, what did you do?
Celebrate, Johnny Football haters.