Rockstar Says Good-Bye
December 30th, 2013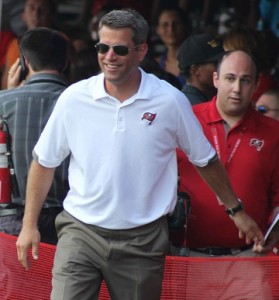 Ousted Bucs rockstar general manager Mark Dominik issued a statement this evening addressing his 19 years of service to the Buccaneers.
"I have appreciated my 19 seasons as a member of the Tampa Bay Buccaneers. During that time, Tampa has become home for me and my family. We have developed great relationships with many friends and fans. I am especially proud of the strong connection that now has been built between the Tampa Bay Buccaneers organization and our military.

"I have been blessed over the years here to work with some of the brightest minds of the game. All told, I have worked with seven men who have served as general managers and 10 who have been head coaches in the National Football League.  Winning SB XXXVII under the direction of head coach Jon Gruden and general manager Rich McKay was an experience I will never forget.  I believe that this team is well positioned for success in the future and I would like to express my gratitude to the Glazer family for the opportunity they provided me nearly 20 years ago to grow and succeed in the NFL."
Joe wishes Dominik well.
Joe's not backing off his feeling that Dominik was a solid GM the past couple of years — that's good, not great. Dominik is not a coach. Regardless, it's ancient history now. Joe looks forward to Team Glazer signing the best GM on the planet.