Josh Freeman = JaMarcus Russell?
September 23rd, 2013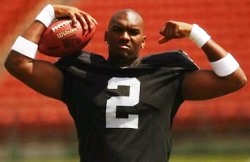 Joe just read a truly horrifying nugget that was passed on via ESPN.com's Pat Yasinskas. It should sober any Bucs fan who is drowning his sorrows over yesterday's gutless loss to the Patriots.
Bucs franchise quarterback Josh Freeman is on pace to obliterate the record for worst pass completion percentage set by the notorious JaMarcus Russell.
In Sunday's loss to New England, Freeman completed 13 of 32 passes (40.6 percent) against four or fewer pass-rushers. Through three games, Freeman has completed a league-worst 40.7 percent of his passes in those situations.

Since the start of the 2006 season, which is as far back as current tracking data exists, the lowest completion percentage by a quarterback against four or fewer pass-rushers for a full season was 51 percent by JaMarcus Russell in 2009.

Yeah, it's come to a point where Freeman's getting mentioned with Russell. The sad part is Freeman's on pace to beat Russell's record.
There really are no words to express Joe's disgust. "Unacceptable" doesn't do Joe's horror justice.
Yes, yes, yes, Freeman is the victim of untimely drops. Say every Bucs receiver has caught every one of Freeman's passes with four or fewer linemen chasing him down. What does that make his completion percentage within these stats, 48 percent?
Oh, that makes everything so much better now! That changes the entire picture. Quick, Bucs rock star general manager Mark Dominik, sign Freeman to an extension, now! If you factor in those drops, why, Freeman is a veritable Jim Kelly, right?
No, Joe really doesn't believe Freeman will get benched this season. And, no, at this point, Joe cannot foresee Freeman returning to the Bucs unless he immediately turns his fortunes completely around.
Anyone want to take odds that will happen?