It Takes A While
September 18th, 2013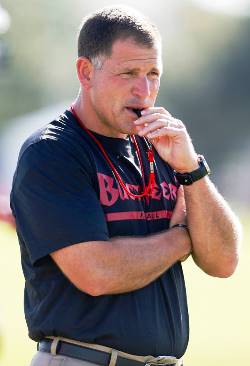 The alleged angst in the Bucs' locker room between Bucs commander Greg Schiano and various Bucs players is all the rage among national media types.
Enter BSPN. You know the subject is blowing up if it reaches the lips from the mouths of Mike Greenberg and Mike Golic of"Mike and Mike" fame. The duo queried NFL insider Adam Schefter to find out what exactly is going on at One Buc Palace.
Mike Greenberg: There are increasing signals of friction with players. We know he doesn't see eye-to-eye with Josh Freeman. What is going on under the surface there with Greg Schiano and just how bad is it?

Adam Schefter: No. 1, you have a guy coming into a situation where the reason they made a coaching change in Tampa was because it was very loose before. So they wanted a very stricter, more disciplined approached. And they hired a guy who had brought that to Tampa. It takes a while to adjust to that. It takes a while to implement that. Bill Belichick did something similar in New England. Tom Coughlin did something very similar in New York. You heard various points early in their coaching careers how unpopular they were at those times and what happens is, they won and those criticisms and questions went away. The Tampa Bay Buccaneers this year are 10 seconds away — 10 seconds! — from being 2-0. And they are not. They are 0-2. OK? And because they are 0-2, and because they lost those games in 10 seconds, everybody now is out to get Greg Schiano. That's what is going on because that type of approach needs winning to make it more palatable.
Bingo! If the Bucs had been 2-0, if Lavonte David hadn't pulled a stupid stunt on Jets quarterback Geno Hayes Smith, if the Bucs had made a field goal late against the Saints, nobody would be talking about Schiano and his relationship with players.
Winning cures all ills. Sadly, with the 0-2 start, this is not likely to die down soon as the playoffs now appear to be a pipe dream.
And Joe is sick about it.