"Apocalypse Now"
September 13th, 2013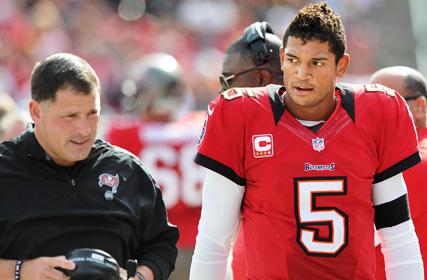 There are fewer better wordsmiths/humorists around, inside or outside the Tampa Bay area, than Martin Fennelly of The Tampa Tribune.
Joe's not even going to try to set up Fennelly's latest piece because Joe will do him an injustice. Fennelly has some damning information for Josh Freeman fans, brilliantly pieced together in an entertaining read, which is Fennelly's forte.
Six days into the 2013 season and we've got an Apocalypse Now bullet train flying down the tracks, already filled with The Case of the Missed Team Photo and, more ludicrous, The Case of the Missing Votes — the story roundly refuted by all in pewter: that the head coach, the grand tabulator, rigged the returns to keep No. 5 from being elected a captain by his teammates.

Freeman's brainless act (or was it?) of oversleeping that photo shoot (that's a leader?) as his Toes On The Line boss waited, is a window to a disconnect that won't change, even if Freeman rallies against New Orleans.

I think the Bucs' narrative, dictated by Schiano, is set if this season falls apart: Freeman takes the fall. And Freeman will leave, happily, I think, free of Schiano as much as Schiano is free of him.
In short, Fennelly is confident last week's team photo won't be the last Bucs team photo Freeman misses.
Fennelly truly sums up both the ridiculousness of Photogate and Bucs commander Greg Schiano allegedly pulling a Dick Daley, while blending the seriousness of the Bucs having essentially lost — or are in the process of losing — their franchise quarterback, all in one column.
Joe cannot recommend you clicking the above line enough.