Tynes Struggling With MRSA
August 28th, 2013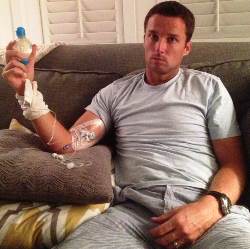 While the Bucs have offered information that Bucs guard Carl Nicks is responding well to his treatment with MRSA, Bucs coach Greg Schiano noted yesterday he wasn't sure of how well kicker Lawrence Tynes is recovering as Tynes is out of town.
Well, Tynes' wife Amanda put out an ominous Twitter update of her husband, and in the process wasn't so hip on the Bucs allegedly suggesting Tynes is responding "well."
@AmandaTynes9: I hear my husband is responding "well" to treatment. LOL! He's NOT responding at all yet. This is our #bucslife
The picture in the post is a photo of Tynes that his wife Twittered out as he is on an IV with a PICC device to help the flow of the medicine into the bloodstream.
MRSA, an aggressive, dangerous form of staph infection that is resistant to common antibiotics is nothing to screw around with, as evidenced by the Tynes photo and by how quickly the Bucs reacted to two bouts of delousing One Buc Palace.
This is why Joe thinks it is folly to even expect Nicks to start for the Bucs next Sunday in New Jersey.