Tim Tebow Over Josh Freeman
August 15th, 2013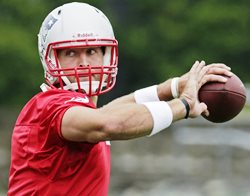 In one of Joe's worst, diabolical nightmares, an opposing team led by misplaced fullback/quarterback Tim Tebow leads said team to victory over the Bucs and roundly outplays Bucs franchise quarterback Josh Freeman.
(This nightmare isn't as bad as the one Joe has experienced prior: a world without beer.)
Coincidentally, Joe read the Twitter feed of Woody Cummings of the Tampa Tribune who, from Bucs-Patriots joint practice in Foxborough yesterday posted this most unsettling information.
@RCummingsTBO: The most effective QB wearing the number 5 out here today has been Tim Tebow. By a mile. Not a good day for Josh Freeman
Joe had to do a double-take. Joe thought, naively perhaps, that Freeman may have put his Six Flags days behind him. The past two weeks he had been mostly exceptional. But to be roundly outplayed by Tebow of all people, Freeman must have hit rock bottom.
Yes, Joe did think Freeman had gotten past this. But maybe this is just who Freeman is and who fans can and should expect. Six Flags. The highest of highs, and then getting shamed by Tebow, if you can imagine such a thing.
Let's hope that big ol' rollercoaster gets stuck at its peak.