Revis "Did More And Looked Impressive"
August 21st, 2013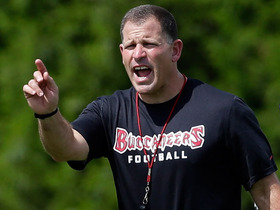 So what's the best news coming out of One Buc Palace today?
There's no question it was Greg Schiano's assessment of Darrelle Revis' Wednesday practice effort.
Revis has been stepping up his workload, including covering Vincent Jackson in drills. Today, per Schiano, Revis "did more and looked impressive."
The Bucs need their $1 million-per-game man on the field to challenge for the playoffs. So this is an amazing sign.
As for Revis playing Saturday night in Miami, Schiano didn't rule it out but specified that everything Revis does is with a thorough day-to-day approach. Translation: Saturday is up to Revis, if he's healthy.