Michael Bennett Slaps Schiano Tactics
August 24th, 2013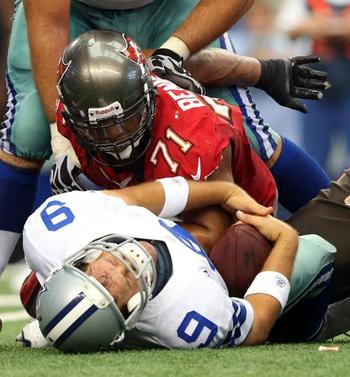 The Buccaneers' 2012 sack leader and tackles-for-loss manbeast, Seahawks defensive end Michael Bennett, sat down for an extensive interview with ESPN Radio in Seattle this week. And Bennett recorded one more sack — of Greg Schiano.
Bennett explained why he's skeptical of New Schiano Order tactics and said he doesn't believe it's an ideal method for grown men
"The coaches are very different. You know, Coach Schiano is more hard-nosed, military-type guy. And Coach Carroll is so laid back, it gives the guys chances to not be on their back but still coach them at the same time," Bennett said. "Because I think a lot of players, they're adults, too, and when you treat them like kids they get offended by that. You know what I mean? Because players, you know, they got their mortgages, they got their kids, they got wives, they got family, they got things they can do.

"So they know it's their job and they know when they make mistakes. But it's a coach's job to keep them honest, you know what I mean. But when a coach is just too much on them, I think the players rebel. Because, you know, they're going to be like, 'Why is he on me like this? It's my fifth year in the league. I know more than him.' Guys are just like, you know, it just becomes a big conflict, I think."
None of this surprises Joe. However, Joe is troubled hearing it come from Bennett, who is a very level-headed guy. Bennett also appeared to be the textbook Buccaneer Man under Schiano. He was hard-working, versatile and he played through an injury and took on a tremendous number of snaps.
Current Buccaneers surely share Bennett's attitude. But Joe has no problem with that. You don't have to love your boss. Numerous hard-nosed NFL coaches have achieved greatness, including Tom Coughlin winning two Super Bowls recently. Schiano's tactics can work. Joe's more skeptical of Schiano's ability as a game-day coach. (You can hear the Bennett audio below.)