Schiano Likes What's Under Grimm's Breath
July 29th, 2013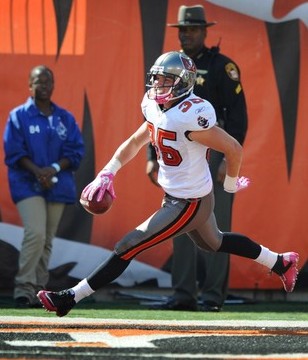 When your dad is a three-time All-Pro and an NFL coach, you really should be a smart football player.
Safety Cody Grimm is just that, so said Greg Schiano today. 
Schiano raved about Grimm's brain and told media that he spends a lot of time alongside Grimm and is impressed. 
"Cody's a very smart football player, whether it's on special teams or on defense. I sit next to him a lot in the meetings, and you can hear him just saying the answers, you know, under his breath. He gets it," Schiano said. "And that's what allows him to really be a competitive player because there are guys that are faster and bigger and all those things. He really is a good football player."
Grimm is firmly on the bubble (no, Joe's not referring Grimm drinking too much champagne.). He's got starting experience and has done some good things, but he's hurt far too often.
Grimm's a guy to watch in the preseason, though. He's got the ability to outplay Ahmad Black, who, like Grimm,  also has had unpleasant times with police.