Notes From Bucs Practice Day 6
July 31st, 2013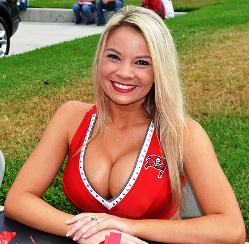 Here are nuggets and notes from Bucs practice, Day 6 of training camp 2013.
* Kevin Ogletree schools Johnthan Banks on a comeback route TD from JF5 along left sideline. Schiano shakes head in disgust.
* MW19 goes low to dig up JF5 pass for 18 yards.
* JF5 to MW19 big gain along right sideline.
* Fake crowd noise!
* Michael Smith with a little shake and bake inside but goes down. Schiano bellows, "Finish, finish!" Smith bounces up, biting the football, and continues running.
* Nate Byham with a catch off a beautiful JF5 play action fake. Next play on a flea-flicker, blitzing Ahmad Black forces JF5 to unload ball.
* Derek Hagen has a short pass bounce off his fingertips on a crossing pattern.
* Josh Freeman threads needle to Kevin Ogletree.
* Lavonte David strips a pass out of Mike James' mitts.
* Granted, Davin Joseph and Carl Nicks are limited but sure seems like Adrian Clayborn and Lavonte David are in backfield quite a bit.
* Vincent Jackson with a short catch nearly batted down by Mark Barron.
* Michael Smith lit up in backfield by Jonathan Casillas.
* Derek Hagen nearly made a circus catch against Braden Smith along left sideline but couldn't hang on.
* Chris Owusu makes one-handed catch along left sideline in drills.
* Adam Hayward beaten badly by TE Danny Noble.
* Nice jump and fingertip grab by Mike Williams on a short throw.
* Freeman throws behind Kevin Ogletree
* Vincent Jackson with a drop on a very easy-to-handle ball.
* Interesting drill: WRs fight with DBs for pass over shoulder.
* Chris Owusu fielding punts. As much work as he is getting, it appears he is very much on coaches' radar just like fans' radar.
* Branden Smith (Georgia CB) now returning punts.
* Mike James returns kickoff straight up the middle.
* Captain of the inactive list Michael Smith returns a long kickoff and the fans respond with loud ovation.
* Bucs rock star general Mark Dominik walks past bleachers and receives standing ovation from fans.
*TE Nate Byham getting work with the first team in red-zone work.
*Undrafted rookie Rashaan Melvin with two instances of good coverage in one red zone period.
*Bryan Cox screaming praise to Daniel Te'o-Nesheim for his work at left end on a run play.
*Cox taking a long teaching moment with Williams Gholston on the field.
*Camp meat alert: Nice effort and technique by Adam Smith working at left tackle.
*Peyton Hillis turns the corner on Steven Means for a long gain. Hillis is powerful-looking dude.
*Keith Tandy slips as last line of defense following a Vincent Jackson catch. TD.
*DaQuan Bowers, late in practice, appears to succumb to the heat. Or he's in deep prayer.
*Michael Smith runs into nosetackle Derek Landri and goes backwards.
*Najee Goode plays with a lot of attitude.
*Mike Williams with a good catch and escape of Rashaan Melvin.
*Steven Means is limping late in practice but playing through it.
*Sean Baker ends practice with an interception of Mike Glennon in the two-minute offense. Heinous throw.