How Can Lavonte David Improve?
July 26th, 2013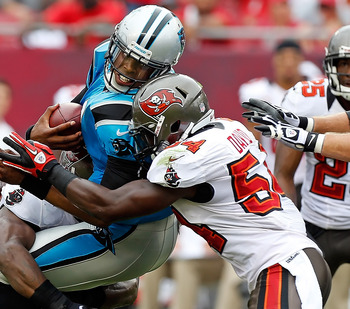 Lavonte David didn't make the Pro Bowl after last season, but he still was an All-World linebacker, calling the Bucs' defensive plays and racking up 112 solo tackles, second most in the NFL.
Derrick Brooks even says David is ahead of the pace he set en route to a Hall of Fame career.
So what the hell must David do to improve in his second season? New Bucs linebackers coach Robb Smith told Joe it's all about David studying intensely to sharpen his reactions. 
"Lavonte's a very instinctive football player. And if he were to make a mistake, he's usually able to make it one time. That's a credit to him. That's kind of why people see him the way they do," Smith said. "As he sees things new that he hasn't seen before, it may stumble him at first it might not, but usually the second time around he's got it down and is moved on to the next task."
Smith says David is a quick learner, and Smith believes David's film work and second year in the New Schiano Order will lead to him "making more plays within our scheme."
Joe asked David how he can make a leap in year 2, and David says it's all about accumulating knowledge. 
"Knowing what everybody's supposed to do and my responsibility first and foremost, to make my job easier and everybody else's job easier," David said. "Understand what I'm watching on film. Not just my job but watching everybody else's job around me and making it easier for me."
Frankly, it's hard to imagine David improving, though Joe, of course is rooting for just that. If David can improve, then the Bucs really could be looking at the next Derrick Brooks.