Clayborn: Pass Rush Will Be Better
July 31st, 2013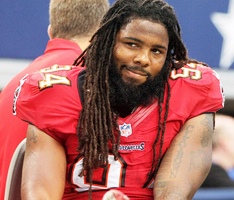 Aside from Bucs quarterback Josh Freeman, no area of the team needs to start man up and step up more  than the pass rush. Gone is 2012 sack leader Michael Bennett.
With both defensive ends Da'Quan Bowers and Adrian Clayborn finally healthy, the Bucs are counting big time on the two young bookends to put the fear of God in opposing quarterbacks, or at least make them yellow their pants.
Just from the vibe Clayborn feels in meeting rooms, opposing quarterbacks should beware.
"The way everybody has bought into the system, it is 10-times, 20-times better than last year and I only played three games," Clayborn said. " It's a lot better than last year. I feel good. My knee is 100 [percent] finally.

"We have Bryan Cox in the room full time now helping us with our techniques and he is really helping out. It is showing. It is showing. [Cox explained] get back to my old self. Don't be fancy. Be hard-nosed and get to the quarterback."
It sounds as if the constant stunting and being cute on the defensive line is going away. Pin your ears back and, as Warren Sapp would say, "hunt."
Joe remembers last year Gerald McCoy, tired of the cutesy stunting, demanded it stop to allow him to chase quarterbacks. It worked. Later, GMC said he was talking to Sapp about this and Sapp said, "The quarterback is over here. Why are you running over there?"
Joe has a hunch Cox will take care of matters. Look, he helped lead a woebegone NFL worst rush defense, and with the addition of just one player (Lavonte David), turned the same unit from worst to first in the NFL. That's coaching.
Now that Cox is solely focused on rushing the quarterback, Joe has visions of Bowers and Clayborn planting quarterbacks into the soil of the Stadium on Dale Mabry Highway. To hear all of Clayborn's comments, click the arrow below. Audio courtesy of Joe's good friends at WDAE-AM 620.