Bucs Score 100% On Dreaded Conditioning Test
July 24th, 2013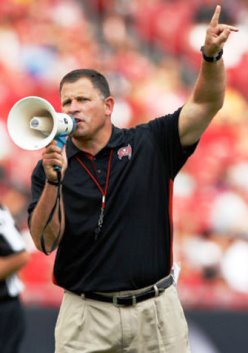 Nobody's messing with the New Schiano Order this season.
Greg Schiano has announced that the Buccaneers roster got a 100 percent score on Schiano's dreaded conditioning test, given to players this morning after they reported to camp. Of course, some players were excused from the famous 110-yard sprints — 16 times — such as Davin Joseph, Carl Nicks and others returning from injury.
Attendance was perfect, as well.
"They're all here and they're all in shape," Schiano said.