Wishful Thinking?
February 12th, 2013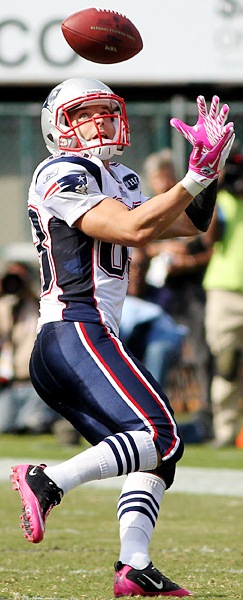 Yeah, this is the time of the year for dreaming. Bucs fans dream of rock star general manager Mark Dominik drafting eight new starters in April and adding two or three in free agency.
What else is there to do in February outside of watching the Bucs "America's Game" episode?
Yesterday, the Custodian of Canton, EYE-rah! Kaufman of the Tampa Tribune, fueled some speculation and got Bucs fans a bit giddy over perhaps the Bucs looking at adding one of the best slot receivers in the NFL, Wes Welker of the Patriots.
@IKaufmanTBO: If Wes Welker hits free agency, he'd be an impact addition for the Bucs. He's been the best slot WR of his era, durable and very productive… Adding Welker to Vincent Jackson and Mike Williams would give the Bucs the best WR corps in the NFL, maximizing Josh Freeman's potential.
As Kaufman qualified in his statements, this is if Bill Belicheat turns Welker loose.
Would this be cool? Sure. But as Joe pointed out this morning, doesn't Josh Freeman have enough toys to play with to be successful?
Would adding Welker help? No question about it at all. But the Bucs have far bigger needs than a slot receiver. Keeping Roy Miller is one need. Fixing that porous sieve of the secondary is priority No. 1. That may cost a pretty penny as well.
Oh, and the Bucs may need to replace Quincy Black, who is hardly a lock to be physically fit by August.
Would Welker be cool to have on the roster? Sure, but not at the expense of ignoring repairing the woeful cornerback holes.