"We Pounded That Rock"
February 3rd, 2013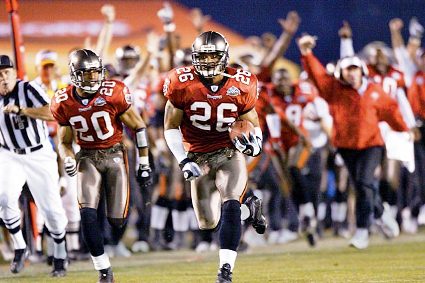 Earlier this year when the Bucs honored the lone Super Bowl-winning team, Joe had a chance to talk to safety Dwight Smith, who very easily could have been Super Bowl MVP when he had two pick sixes, a 44-yard and a 50-yard interception return. Joe decided to hold the interview until today, Super Bowl Sunday, as well back as the greatest Bucs team of all time, 10 years removed. Though his NFL career is over, Smith still lives in the Tampa Bay area.
Dwight Smith: It's been good. The coolest thing about it is getting to see guys who you haven't seen in a long time. That is the coolest part.
JoeBucsFan: If the NFL wasn't in such a hurry to crown an MVP, not to take away from [the good] Dexter Jackson, but you could have gotten some hardware. Two pick-sixes? That's hard to overlook.
Smith: Well, the last interception came so late, I always tell people if my second interception came when Derrick's came, well you know, who knows who would have held that trophy? But I was happy for Dexter all the same.
Joe: Earlier, Monte Kiffin had said that in the NFC Championship against the Eagles, when Ronde Barber had his pick-six to seal the game, his biggest problem was getting the defense calmed down to get back on the field because the Bucs had to kick off right away. What was that feeling like for you when Barber crossed the goal line and ended the game, sending you to the Super Bowl?
Smith: It is always tough when you score a defensive touchdown to get back in transition to play defense again. But when you had veteran leadership like we had, they made us snap back into focus. It was good.
Joe: Looking back, how special was that defense?
Smith: NFL Network has us ranked No. 8. So when you think of all the defenses that played in this league forever, and they have us ranked No. 8? I will take that.
Joe: The way your defense played in that Super Bowl, it was like a snowball rolling down the hill. When you look back on it, was the play in that defense in that game, against that offense the Raiders had something really special?
Smith: The thing was, we had a few dips. New Orleans beat us twice that year. But the veteran leadership kept us focused, we were steady as a rock and we came up with the phrase, "Pound the Rock." And we pounded that rock.