The Value of Tyler Eifert
February 18th, 2013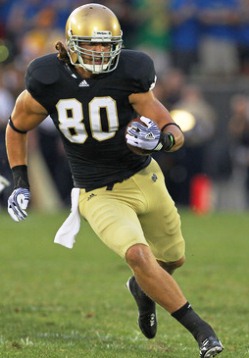 Yes, the Bucs need a cornerback desperately. So much so that Joe wouldn't be shocked if Bucs rock star general manager Mark Dominik selected two corners in the first two days of the draft.
Some believe the Bucs also have a hole at tight end, a pressing need. So how could the Bucs take care of both corner and tight end in the draft? This question was posed to Woody Cummings of the Tampa Tribune in a recent TBO Bucs Q&A.
Q. So lets say the bucs draft either Xavier Rhodes or Dee Milliner at DB. Do you see us trading back into the first round with one of our 4th round picks and our only second round pick, and take Tyler Eifert at TE?

Tee Ware, Plantation

A. I can definitely see a scenario like that playing out. It fits the pattern that GM Mark Dominik has followed in the past in terms of adding more premium picks and your selections fill what I see as the two biggest areas of need right now. The only thing I see differently than you is the order in which the Bucs might pull off such a deal. Based on the way the draft is shaping up right now, I don't see them getting Milliner at No. 13, but I do believe they will have a shot at Eifert there. Then they can possibly work a deal to get a cornerback, possible Rhodes, either in the second or late in the first round.

Woody Cummings
Here is where it gets interesting: Today, in his must-read "Monday Morning Quarterback" on SI.com, Peter King spoke with Mike Mayock who doesn't believe many — if any — teams will trading up in the draft because of the void of top-shelf talent. While the draft is deep at many positions, such as corner, there are few players that stand head and shoulders above the rest.
If teams are having a difficult time trying to trade down, as King believes because few teams will want to trade up, Dominik just might be able to trade back up in the latter stages of the first round (much like he did last year when he procured Doug Martin).
That is, after he drafts Xavier Rhodes.