The Brent Grimes Dilemma
February 21st, 2013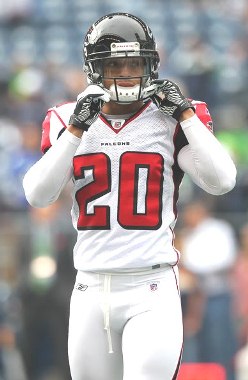 Though Joe doubts Bucs rock star general manager Mark Dominik would pull such a stunt, Joe is pretty sure few Bucs fans would cry if Dominik drafted nothing but cornerbacks in April's draft.
There is no debate this offseason; the Bucs need help at cornerback desperately. And re-signing free agent E.J. Biggers doesn't qualify has help
Many Bucs fans are jumping up and down like a Warren Sapp touchdown dance for Dominik to throw the National Bank of Glazer at Falcons free agent Brent Grimes — whatever it takes.
It is an intriguing thought: Add a solid player to your lineup at a major position of need and weaken a division foe, the reigning division champ, all with two strokes of a pen.
For Bucs fans who pine for Grimes, this little piece of analysis by Pete Damilatis of ProFootballFocus should whet their appetite.
The Falcons' surprise march to the No. 1 seed this season appears even more impressive when you realize they did it without their best defensive back. Grimes' +17.2 grade in 2011 was second only to the great Darrelle Revis, and Atlanta used the franchise tag to ensure they'd keep the 29-year-old cornerback around for at least another year. When Grimes unfortunately tore his Achilles in Week 1 and missed the rest of the season, many assumed that his days as a Dirty Bird were done. But Atlanta should not let him walk away that easily.

Cornerbacks are still too often judged by their interception count, and Grimes' one pick in 2011 didn't put him on anyone's radar. However, after dissecting the film, we saw one of the best cover corners in the NFL. Grimes' average allowance of 0.58 Yards Per Cover Snap was the lowest for any cornerback with over 200 coverage snaps. On the season, he surrendered just 258 yards, allowing just 10.3 yards per reception and a 62.9 passer rating. His 12 passes defensed tied him for seventh-most at his position, as he knocked away 21.4% of the throws when he was targeted. And he was the model of consistency, only twice earning a negative PFF grade in a game.

That season wasn't an outlier for Grimes either, as he received a Top-10 cornerback grade in 2010 and allowed just a 61.3 passer rating to opposing quarterbacks, earning the first of two straight PFF Pro Bowl selections. But regardless of his past production, should the Falcons really invest in a 30-year-old cornerback coming off an injury, especially when they already have Asante Samuel and Dunta Robinson under contract? That depends upon your opinion of Robinson, which at this point shouldn't be very high.
Damilatis also touts Grimes as a solid run defender, which of course would make Bucs coach Greg Schiano smile.
Oh, and it seems the Dixie Chicks may not franchise any player this offseason.
The only things that scare Joe about Grimes is he is 30 and recovering from a blown Achilles. That is not a good combination.
But as bad as the Bucs' play at corner was last year, a hobbled Grimes would have been an upgrade.