Score Big On Valentine's Day With A Tampa Limo
February 14th, 2013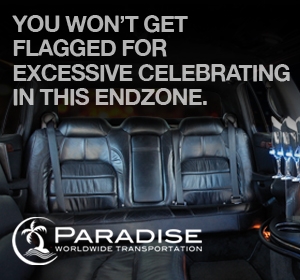 Don't be Sabby the Goat this Valentine's Day. Be your best self and rent a limo to impress your special lady or dude.
You can even lock one up for the weekend and do flowers tonight!!!!
A limo also is a great way to avoid going to bed with an unwanted parter in a jail cell following a DUI arrest.
Joe 100 percent endorses Paradise Worldwide Transportation for all your Tampa limo, Sarasota limo, St. Pete limo and Brandon Limo needs. Joe knows the good guys at Paradise personally, and their stunning fleet is always available for inspection. And Paradise chauffeurs are the best in the business — trained and professional. Did Joe mention Paradise's world famous on-time guarantee?
Joe knows members of Tampa Bay's top sports teams use Paradise all the time — and rest assured what happens in the limo stays in the limo.
Paradise also can meet all your needs, from luxury buses, executive SUVs, stretch limousines, Tampa corporate transportation and so much more. Call Paradise 24/7 at (800) 729-4713, or click through above. Their guest services team is ready to help plan your special night.