Joe Is On The Ground
February 20th, 2013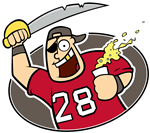 Joe is on the ground in Indianapolis at the NFL Scouting Combine! Damn, it's cold around here.
It was a smooth trip made a lot more interesting by the Bucs' coaching staff joining Joe on the flight.
Over the next handful of days, count on Joe delivering interviews with Bucs and NFL movers and shakers, as well as from various draft prospects and so much more.
Of course, Joe also will continue to deliver you all things Bucs 24/7.