Jim Leavitt Talks To Joe
February 2nd, 2013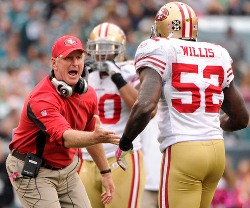 During Media Day, Joe talked to former South Florida coach and St. Petersburg native Jim Leavitt, who is now the 49ers linebackers coach. Joe can't think of a better linebackers unit in the NFL than what Leavitt has to work with. Joe had crossed paths several times with Leavitt before when he coached USF, and Joe couldn't believe how relaxed Leavitt seemed at Media Day. Leavitt talked about his linebackers, any possible promotions in the NFL that may comes his way, how he got the job in San Francisco after leaving USF under a dark cloud, and about his old Big East nemesis, Greg Schiano. Now, Leavitt is one win (tomorrow) away from wearing a Super Bowl ring the rest of his life.
JoeBucsFan: When you have linebackers like you do from Patrick Willis to NaVorro Bowman to Ahmad Brooks, it sort of makes your job a little easier, doesn't it?
Jim Leavitt: Well, you know, these guys are blessed with talent. The thing that impresses me about them is not only are they talented, they are very humble and grounded and are a sponge at wanting to get better all the time. And they want to be great.
Joe: Patrick Willis always talks about how he is driven to be one of the game's greats and Bowman is a Penn State guy, yeah, Linebacker U, but Joe Paterno groomed those guys to be humble.
Leavitt: They are very special that way. They are very, very close; they are just great, great guys.
Joe: Your players notwithstanding, you've had a lot of success with your unit since you took over when Jim Harbaugh hired you. Usually when a position coach has this much success, your unit may be the best in the NFL and now your team is in the Super Bowl, defensive coordinator jobs start opening up. Is that your next step? Have any teams inquired about hiring you as a defensive coordinator?
Leavitt: My thoughts are not anything like that. My thoughts are more – and I really mean this – my thoughts are not anything more than trying to play as good as we can in this game and try to win a Super Bowl and that is it. That is my total focus.
Joe: How much of a rush is this, to be on this stage, the biggest in all of football?
Leavitt: It is exciting. I have never been in this kind of venue [Super Bowl] and a lot of people don't ever have a chance to coach in a Super Bowl game so the opportunity is really special.
Joe: Did you have a relationship with Jim Harbaugh previously?
Leavitt: I knew Jack [Harbaugh], he was the head coach of Western Kentucky when we played them four times so I knew him pretty well. I met Jim through some head coaches functions and got to know him there. He offered me the opportunity to coach with the 49ers and I had never been in the NFL. I really knew the 49ers were a special organization and knew [former 49ers owner and brother of current owner Denise York] Eddie DeBartolo from Tampa and I always followed the Niners, I really had, which is kind of ironic. So when [Harbaugh] afforded me the opportunity, I jumped at it.
Joe: Greg Schiano, obviously you know him well…
Leavitt: Oh, yeah.
Joe: … does it surprise you at all what he has done so far, pretty well coming from college and what seems like a turnaround with the Bucs and how well the Bucs rush defense played?
Leavitt: No, I think he is a good coach, a tremendous coach. He is organized and did a great job [at Rutgers] and will have great success with the Bucs, I really do.
Joe: When you went up against Schiano, what were some of the traits that his teams had that made playing Rutgers troublesome?
Leavitt: Just well-coached, organized, they played with great confidence and that came from him. Those are the main things.