Defensive Ends Sliding?
February 20th, 2013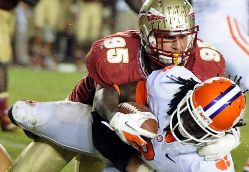 Yes, the NFL Scouting Combine starts tomorrow, an event Joe likes to call "The World's Largest Indoor Track Practice." Others like to call it the "Underwear Olympics." Whatever, it's not football.
But it is the site of the best offseason football chatter outside of the draft — thanks to the NFL marketing geniuses. The NFL trots out hundreds of potential draft picks in one spot over four days for NFL writers to fill their notebooks and radio stations (such as SiriusXM NFL Radio) for four days. General managers and head coaches, and many other coaches, are there and available for rare offseason interviews.
To sort of kick off these events, NFL Network draft guru Mike Mayock held a conference call to talk draft. He said he believes two defensive ends many people have going in the top 10 may still be sitting there at No. 11, via a press release from NFL Media.
Q. Mike, I'd like to ask you if there is any pass-rushing depth at the defensive end position around 30 where the Falcons will be picking. A lot of folks think tight end, but wanted to check on the D-end talent, the late first round, early second round?

Mike Mayock: Yeah, I have a little different opinion than what I'm hearing a lot of people have on these quote 4-3 defensive ends. I'm not as high on these guys as some people are.

For instance, I don't think Bjoern Werner or Damontre Moore are top 10 players. They might go in the top 10, but I don't see it that way. As you start dropping down later, what happens is Ezekial "Zeke" Ansah from BYU, he's got as much upside as anybody in this draft. I don't think he gets to [pick number] 30.

A couple other names to keep an eye on, whether it's the first round or a little later after that. Tank Carradine, the quote "other" defensive end at Florida State who had a medical issue, he probably had first-round talent. He's probably going to go in the second or third round, and somebody's going to get a steal with this kid because of his natural upside. Alex Okafor from Texas is a second or third-round guy.
Now this gets Joe totally pumped. Joe has stated on the record more than a few times that he has a strong hunch that if there is a defensive end sitting at No. 13 that Bucs rock star general manager Mark Dominik believes can provide an immediate pass rush, then Dominik will grab him.
Given Dominik's habit of picking defensive linemen early, this isn't much of a stretch. Now if somehow, someway, the Baron of Berlin, Bjoern Werner, is still there at No. 11, Joe would not be shocked in the least if Dominik makes a trade up to nab him. If the Bucs were able to land Werner, Joe would be giddy drunk for days on end!
Moore, of Texas A&M, is a guy some have speculated would slip to the Bucs at No. 13.
Mayock also made a great point about Carradine. He was widely regarded as Florida State's best defensive end, not Werner, prior to the 2012 season. Carradine suffered a knee injury against Florida and was lost for the season.
If his knee checks out, wow! What a steal he could be in the third round, if he even lasts that long.