Tim Brown Backpedaling
January 23rd, 2013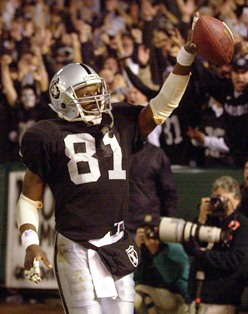 Well, well, well. It sure smells like Tim Brown's lawyers told him, in a manner of speaking, "Shut the hell up."
The former Raiders receiver, who has been spouting off the past few days that then-Raiders coach Bill Callahan "sabotaged" the Raiders gameplan — in common-speak, this is known as "throwing a game" — so Callahan could hand Chucky and the Bucs a Super Bowl win, is doing major league backpedaling today.
In an interview on "The Dull Patrick Show," Brown now claims that then-Raiders owner Al Davis "likely" had Callahan change the Raiders gameplan, Brown now claims he never said Callahan "sabotaged" the Raiders!
Talk about talking out of both sides of your mouth!
Clearly, Brown's lawyers got to him, thankfully. Brown has been spreading so much manure, and is now backtracking big time, Joe seriously thinks Brown should be tested for CTE. He's crazier than Barrett Robbins.
Below is Brown's full interview with Dull Patrick.