The Peaks And Valleys Of Josh Freeman
January 1st, 2013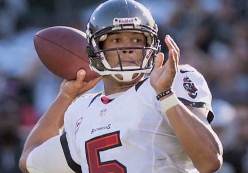 Joe is trying to keep an open mind when it comes to Bucs quarterback Josh Freeman. His detractors believe he is a mobile version of Trent Dilfer. His protectors believe he is the second coming of Ben Roethlisberger.
Even as a rookie, Roethlisberger never remotely approached the inconsistency of Freeman, who will be entering his fifth season as a starter this year. But there are times where Freeman does channel the Steelers two-time Super Bowl-winning quarterback.
In Freeman's touchdown pass to Mike Williams, Joe thought he was watching Roethlisberger, who can avoid traffic in the pocket and buy time like few other quarterbacks can.
Freeman danced around a would-be tackler, all while keeping his eyes glued to the end zone, just like Roethlisberger. Then, seeing a narrow window, Freeman rifled a Nolan Ryan fastball to Williams in the back of the end zone for six.
It was an absolutely beautiful play. Joe leaped from his couch, jabbed a finger in the air aimed at his HDTV screen and hollered, "That's what you need to do all the time, Josh!"
But those plays, even on days when the "good Josh" shows up, were few and far between this year, a pattern, so writes Gordon McGuinness of ProFootballFocus.com.
The Ups and Downs of Josh Freeman

Watching Buccaneers quarterback Josh Freeman, I'm left with the same feeling of frustration I get when watching Baltimore's Joe Flacco. At his best, Freeman can make every throw you need him to make and can take over a game. However far too often he makes the sort of mistakes that keep you from trusting him and, especially recently, we've seen more downs than ups.

His interception on 3rd-and-7 with 4:35 left in the third quarter was particularly bad, with a lazy throw allowing Atlanta corner back Asante Samuel to step in front of receiver Tiquan Underwood and secure the turnover. The decision to make the throw was dubious but the execution by quarterback and receiver was extremely poor and turned a short pass into a turnover. As they head into the offseason now, the powers that be in Tampa have to find a way to get Freeman playing with more consistency, so that they can start winning games because of him as opposed to in spite of him.
For many reasons, including his future contract, next season will be big for Freeman. A second year in Mike Sullivan's offense should do wonders for him.
That's why Joe is disturbed that Sullivan, the Bucs offensive coordinator, is interviewing for the Bears head coaching gig. It's not surprising that Sullivan is interviewing; Joe predicted as much many times this past year.
But with Freeman in a freefall, to briefly bounce out of it Sunday, Freeman desperately needs another year with Sullivan. Otherwise, Freeman will be on his fourth coordinator in five seasons. Joe fears that will really screw with Freeman's head, setting him back in his development yet again, and he may never realize his potential with the Bucs.