The First Of Many: 2013 Mock Draft
January 3rd, 2013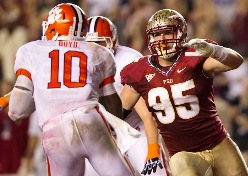 It's a new year: 2013. The first season of the Greg Schiano Administration is over. Time to start working on a new season.
Thus, the first mock draft Joe is linking to in this new calendar year is here, from Joe's good friend Jason McIntyre, the brainchild and mastermind of TheBigLead.com. It has Bucs rock star general manager Mark Dominik selecting cornerback Jonathan Banks of Mississippi State with the No. 13 pick.
13. Tampa Bay Buccaneers 7-9 – Johnthan Banks, CB, Mississippi State. The worst secondary in football needs help. Trading Talib created a hole. This isn't a strong CB class, so options could be thin later. It is a deep pass-rushing draft (Tampa had just 27 sacks last season, tied for 3rd worst in the NFL), so that need to be filled later.
What is interesting in this mock draft is that it has the Baron of Berlin, defensive end Bjoern Werner, going 24th to the Colts.
Let Joe state this for the record right now and feel free to mock him come April. Unless Werner (who is expected to enter the draft) completely flops at the glorified indoor track practice NFL combine and blows all of his individual workouts, there is flat out no way Werner gets past the Bucs.
Look at Dominik's draft history: He covets defensive linemen (remember sackless Kyle Moore?). There is not one starter on the Bucs defensive line that does not have a question mark hanging over his head. Michael Bennett and Roy Miller are free agents, Gerald McCoy has only had one injury-free season, Adrian Clayborn is coming back from major knee surgery, Da'Quan Bowers, though effective, cannot stay healthy, not to mention that degenerative knee issue of his.
If a stud pass rusher, like Werner, is still sipping water at Radio City Music Hall waiting for his name to be called, believe Joe, there will be a bratwurst and käse party at One Buc Palace highlighted by oompah music replete with scantily-clad cheerleaders bearing large, overflowing steins of Warsteiner bier.