The Blount Decision
January 9th, 2013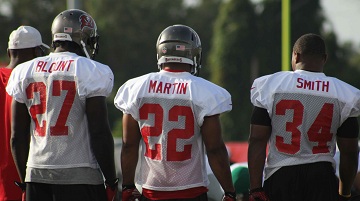 Joe suspects that when Greg Schiano makes time to relax and daydream with his feet up and a cold beverage, he dreams first about running Doug Martin behind Carl Nicks and Davin Joseph.
And in that fantasy of an unstoppable running game, Joe suspects Schiano envisions a second running back spelling Martin and further bruising opposing defenses.
Is that guy LeGarrette Blount? Joe's not sure. But Joe believes Blount should be tendered a restricted free agent offer from the Bucs when they're dished out around the league in February.
Blount is among the best and most dangerous backup running backs in the NFL, and he would come relatively cheap. The Bucs could put a "second-round tender" on Blount for 2013, which would pay him just under $2 million. If another and better offer soon after was made to Blount that he accepted, then the Bucs would get a second-round pick from that team. Or the Bucs could put a right-of-first-refusal tender on Blount. That would be pay him a little over $1 million for 2013, and another team could try to lure Blount with a better deal. In that scenario, the Bucs would get no compensation if Blount left.
Considering there's no guarantee the Bucs will find the No. 2 running back of their dreams when the March free agency bell rings, Joe can't imagine a scenario that has Blount getting released. Last spring, Schiano couldn't stop saying "run the football." And Blount can run the football if called upon.
Sure, Blount could be one of the "weeds" Derrick Brooks referenced. But if that were the case, why wouldn't the Bucs have cut Blount once they were out of the playoff hunt?
Obviously, the organization has no faith in inactive list captain Michael Smith, and D.J. Ware was hardly impressive. At the very least, if Blount had to fill in for Martin, Blount is durable, will get respect in the play-action game, and he didn't fumble during the 2012 preseason or regular season.
Joe believes a Blount in hand would be a wise move. The alternatives are not very enticing.