Schiano Has Family Ties To John Garrett
January 21st, 2013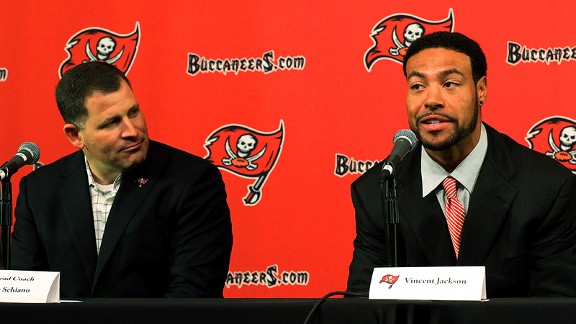 Late in 2012, Greg Schiano starting wearing a black, rubber-looking bracelet with the word "Family" on it, so it seems fitting that a family tie appears to have brought new Bucs wide receivers coach John Garrett from the Cowboys to Tampa Bay.
Charean Williams, of the Fort-Worth Star Telegram, caught up to Garrett, who explained that the leader of the New Schiano Order had a relationship with his dad.
Garrett's tie to Schiano is his father. Jim Garrett was a long-time NFL scout whose path crossed several times with Schiano while Schiano was in the college ranks.
Interestingly, it seems Vincent Jackson was involved in the interview process.
"Vincent Jackson is a fantastic player and from what I hear and what I saw when I had the interview, he is arguably a better person," Garrett said. "All the coaches there think he's an outstanding leader, a fantastic worker. He loves to be coached and loves football. They had a lot of comparisons to this is our [Jason] Witten, how he just loves it and as a star player sets the tone and pace for how to work and prepare. I got a chance to visit with him in the course of the interview and that's exactly the case. I developed a good rapport, and I'm looking forward to working with such a talented guy."
Joe's pleased to read about the budding relationship with Jackson and Garrett, and it was a savvy move by the Bucs to get their $11 million receiver involved early. It's also pretty damn cool that Jackson was sizing up a potential coach during his time off.
Joe wonders whether Josh Freeman had a similar impact on
the John McNulty hire
as quarterbacks coach, or whether Freeman learned of the hire like the rest of us.