Reaffirming Christian Ponder Over Josh Freeman
January 31st, 2013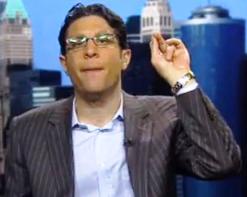 Joe's always keeps track of what influential national NFL voices are saying about the Bucs. So Joe was eager to hit energetic SiriusXM NFL Radio host Adam Schein, who also is a regular on CBS Sports and was a player for FOX, with a few questions at Super Bowl media day Tuesday. Schein was quick to reaffirm his stance that he prefers Christian Ponder to Josh Freeman, as does Gil Brandt.
JoeBucsFan.com: Your impressions of Greg Schiano's first year?
Adam Schein: I thought he did a good job. He's the right guy for the Buccaneers.
Joe: A couple of months ago you said you trusted Christian Ponder more than Josh Freeman, and that was when Freeman was at the height of his season before the Bucs' collapse. It turned out Freeman vanished in big games and Ponder came up big. What's your view on them now?
Schein: I think Ponder's just got a knack. I think Freeman has a lot of potential, but I think that we've got to see exactly who Josh Freeman is. I like him with the weapons they have now, with Vincent Jackson and company. Doug Martin takes the pressure off. But we'll see what he can do. We don't know.
Joe: Given Tim Brown's recent allegations that former Raiders head coach Bill Callahan sabotaged the Bucs-Raiders Super Bowl 10 years ago, and Jerry Rice concurred, are you surprised the NFL hasn't launched an investigation into this, especially considering Jim Harbaugh was an assistant coach on that team?
Schein: There was no sabotage, not at all. All BS.