Monte Kiffin, Your New Cowboys D-Coordinator
January 11th, 2013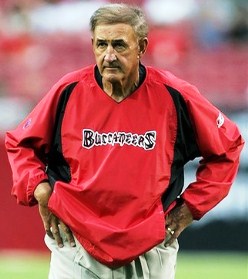 For Bucs fans pining for the return of Monte Kiffin to run the Bucs defense, well, it's time to turn the page and find another dream.
The renowned defensive mastermind, despite having his primary residence listed as Redington Beach, has just been hired by the Cowboys to run their defense, so reports ESPN.
Kiffin, who turns 73 in February, resigned as Southern Cal's defensive coordinator last month after spending four years on his son Lane's staffs at USC and Tennessee. He spent 26 years as an NFL assistant coach, including a 13-year run as Tampa Bay's defensive coordinator before returning to college football in 2009.
Cue the Chucky-is-coming-to-Dallas rumor mongering, which Joe believes has a kernel of merit.
Unless something totally unforeseen happens, Bucs coach Greg Schiano will keep Bill Sheridan as his defensive lieutenant.
What is interesting to Joe is the Dallass defense is not stocked for a Tampa-2 type of a defense.