Jackson Breathing Easy, Battling "Union" Limits
January 17th, 2013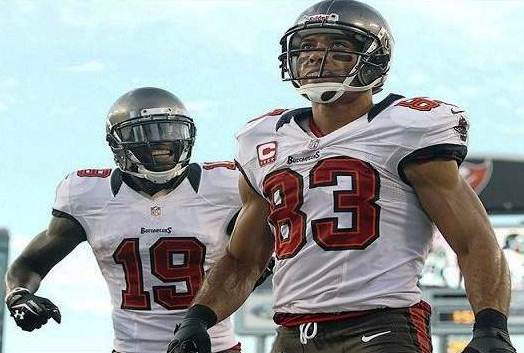 Joe's glad to see he's not the only one breathing a huge sigh of relief because Bucs offensive coordinator Mike Sullivan didn't land as a head coach Chicago, in what what have been a devastating setback to Josh Freeman and the offense.
Vincent Jackson expressed similar sentiment, documented by Buccaneers video mogul Scott Smith, and explained that continuity alone should help the Bucs as they try to squeeze the most out of every last minute of practice time, which is restricted by the player-owner labor agreement.
"I think it's huge," said Jackson of Sullivan's return.  "To get that year under your belt is huge, and if we had gotten a new guy here we could have had a different system and we would have had to pretty much start from scratch like we did last year.  So having this confidence – you know, we kind of know what to expect from him and the coaching staff knows what to expect from us – it's definitely going to give us a head start this offseason."

The Bucs didn't achieve their postseason goals, but they did set new franchise single-season records for points scored, yards gained and passing yards gained.  Obviously, the arrival of Jackson (and rookie RB Doug Martin) had a lot to do with that, and Jackson thinks the Bucs can top themselves again in 2013, thanks to that much-appreciated continuity.

"I think there is a huge chance that we will be a lot better just because the fact that, again, you feel all different kinds of struggle when [you] get a new coordinator or [you] get a new head coach and everything is kind of fresh," he said. "Even though we put in lots of work and I felt we were playing at a high level and we felt very comfortable with the system, you know, well early on in the season there were still things we could improve on and we could have been more consistent with. I expect us to definitely to have a head start on that. This offseason we won't have to spend as much time installing, you know. Some of the veteran guys will know what is expected of them and know all of the calls and formations.  We're all in this league racing against the clock, with the union and all the hours we are only allowed to do in the offseason and during the season, that's what we're all competing against.  It's preparation. So for us to have that knowledge under our belt, it's definitely going to help us."
Smith has more excellent nuggets from Jackson, which you can find by clicking above.
Joe finds it interesting that Jackson talked about how the Bucs could have been more consistent and tighter early in the season, versus later in the year during the December collapse. It was a similar sentiment that former wide receivers coach P.J. Fleck told Joe last week, when Fleck said alleged miscommunication between Freeman and receivers was more a function of defenses catching up to the Bucs than anything else.
Regardless, Joe, along with Jackson, is confident that Year 2 of the Sullivan offense should translate to stellar and consistent production given the Bucs' talent. There really are no more excuses.