Fitzpatrick, Sanchez Have Bucs Spooked
January 10th, 2013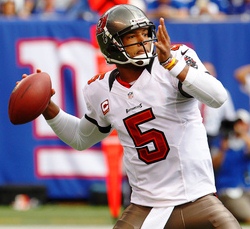 Want to know why Bucs coach Greg Schiano isn't putting pedal to the metal on re-upping the contract of quarterback Josh Freeman (aside from his losing record, bouts of frightening inaccuracy and speed bumps of inconsistency)? Look no further than the AFC East, says Scott Reynolds of PewterReport.com.
The Bills and Jets, who are on the hook for millions of dollars to Ryan Fitzpatrick and Mark Sanchez, respectively, are making Team Glazer, if not Schiano, pause.
Following the 2011 season, the Jets rushed things and signed Sanchez to five-year, $58.25 million deal. With New York coming off a horrific 2013 season, Sanchez's deal is now being labeled as "one of the most ill-conceived contract extensions in NFL history," according to Gary Myers, the Jets beat writer for the New York Daily News.

Sanchez, who was benched in 2012, is set to make $8.25 million in 2013 and there are rumors that the team is trying to trade the former first-round pick in 2009. Sanchez's poor performance in 2012 and the team's decline with a 6-10 record this year already cost general manager Mike Tannenbaum his job. The Jets quarterback completed 54.3 percent of his passes for just 2,883 yards with only 13 touchdowns and 18 interceptions.

In Buffalo, Fitzpatrick was quickly signed to a foolish, six-year, $62-million contract in October of 2011. Heading into 2013, the Bills are looking to dump Fitzpatrick after finishing a disappointing 6-10. Fitzpatrick's didn't play that poorly statistically speaking, as he completed 60.6 percent of his passes for 3,400 yards with 24 touchdowns and 16 interceptions, but just didn't make enough plays to win games. That prompted Buffalo to fire head coach Chan Gailey.
At least with Sanchez, he guided the Jets to consecutive appearances in the AFC title game. Freeman, who is entering the final season of his Bucs contract, cannot say as much.
As much as it could cripple the Bucs' salary cap by signing Freeman to a monster contract, Joe has no issue with Team Glazer and Schiano being prudent in assessing whether Freeman is worthy of such a (in many ways) costly investment.