East-West Prospect Profile: Nick Moody
January 25th, 2013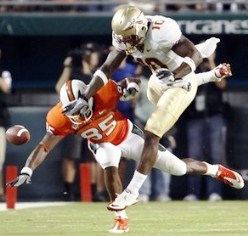 Joe spoke with five prospects last week at the East-West Shrine practices and game that could be targets of the Bucs, three cornerbacks, one safety and one linebacker. The Bucs have a pattern for prospects: multiple years as a starter, played for a big-time program or conference, and served as a team captain. The Bucs rarely deviate from this pattern. Some have met all three qualifications for a Bucs draftee; some have not.
Name: Nick Moody
School: Florida State
Position: Linebacker
Size: 6-2, 237
Started: Three years
Captain: Yes.
Have Bucs representatives spoken to him?: Yes.
Background: A versatile player who is built like a Roman gladiator, Moody was a three-year starter who appeared in every game for the Seminoles as a redshirt freshman. Moody was a safety and this past year moved to outside linebacker. At safety, he was sort of a John Lynch-type player in that he made opposing ballcarriers pay with punishing hits. That may have been why the Seminoles tried him out at linebacker his senior year with modest success. But it is that versatility that raises the eyebrows of NFL scouts, including the Bucs who have talked to Moody. His sophomore season was his best mainly because he was injury-free and had 44 solo tackles. In the last four games of the 2010 season against Maryland, Florida, Virginia Tech and South Carolina Moody racked up 40 tackles.
Sales pitch to Bucs rock star general manager Mark Dominik: "I bring a lot of athleticism to the position, I am physical and I am willing to learn and I love playing the game. Linebacker or safety, I don't care. I can play either one. I just want to be in the NFL."
Profile: Though from Pennsylvania, Moody grew up a Bucs fan and if he were granted a wish, it would be the Bucs who draft him. "I would love it. There is a tradition of FSU linebackers here but on top of that, I love the Tampa Bay Bucs. I would be proud to be a Buc." Moody is an absolute rock of a physical specimen; chiseled. It is that blend of physicality and speed which makes NFL scouts take notice. It is his ability to be able to play linebacker and safety that Moody claims would be perfect for the NFL game. "Versatility is important. When you look at tight ends, they do so many multiple things. They can go wide, they can run receiver routes and you see a lot of that as the game has become more of a passing game now."
Below is a clip of how Moody laid wood to people when he was a sophomore.