East-West Prospect Profile: Demontre Hurst
January 21st, 2013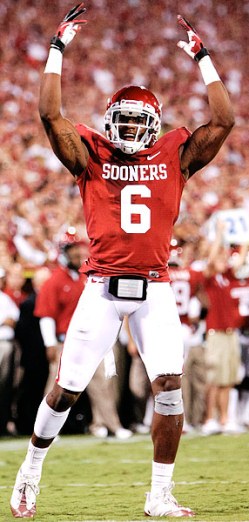 Joe spoke with five prospects last week at the East-West Shrine practices and game that could be targets of the Bucs, three cornerbacks, one safety and one linebacker. The Bucs have a pattern for prospects: multiple years as a starter, played for a big-time program or conference, and served as a team captain. The Bucs rarely deviate from this pattern. Some have met all three qualifications for a Bucs draftee, some have not.
Name: Demontre Hurst
School: Oklahoma
Position: Cornerback
Size: 5-10, 183
Started: Three years
Captain: Yes
Have Bucs representatives spoken to him? Yes.
Background: Three-year starter, two-time second team All-Big XII. Hurst was fourth on the Sooners in tackles. In a loss to Notre Dame, which eventually played for the national title, Hurst had seven tackles, a sack and two pass break-ups. Finished senior season with 51 tackles, 43 of which were solo tackles.
Sales pitch to Bucs rock star general manager Mark Dominik:  I bring a lot of discipline and a lot of effort to the game. I really trust my ability to make plays. wherever the coaches put me at corner. I do my best to try to make the play. I may not be the biggest guy but I use my size to my advantage. I just try to make plays all over the field.
Profile: Hurst is strong against the run and can deliver a lick, traits that make Bucs coach Greg Schiano smile. Hurst has done his homework and knows the Bucs are in a dire need for cornerback depth and has targeted the Bucs as a team he is trying to impress.
Hurst touted his versatility to Joe last week.
"I can play nickel and corner and I am trying to work on those positions out here. I know in the league, you have to be versatile. That is what I am trying to do, use my versatility to my advantage. I played corner all four years in college and some nickel plays every now and then. I have learned that NFL teams are playing three corners a lot and I'm trying to take advantage of that.
"To be in this league, you have to tackle. Being a corner, when guys get to the outside you have to be able to bring them down. I am not the biggest guy in the world but I can tackle in the open field."
Below is an example of how, as a junior, Hurst put receivers on the ground in a very unwelcome manner.