Donald Penn And A Return To Dominance
January 3rd, 2013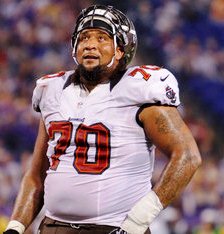 Not too long ago, left tackle Donald Penn smothered opposing right defensive ends.
Penn still does a number on opposing ends, but former Bucs defensive lineman Steve White believes Penn can once again be a star if he does one hard-to-do thing:
Stop eating, so White Twittered last week.
@sgw94: Donald Penn has to lose weight next year. He is still decent, but if he ever wants to be dominant again he has to put the damn fork down. … He can't bend now and that means better DL are going to get him. Doesn't have to be that way. Shouldn't be that way
Now Joe knows Penn has a clause in his contract that forces him to weigh in and rewards/punishes him for the results. It sure seems Penn gets bloated as a season progresses and has his best games early in a season.
Penn is not getting any younger. If, as White says — and who would know better than a former NFL defensive linemen? — all Penn needs to do is lose some weight, maybe he could do that and extend his career a few years and collect more cash?