Derrick Brooks Mocks Tim Brown, Jerry Rice
January 23rd, 2013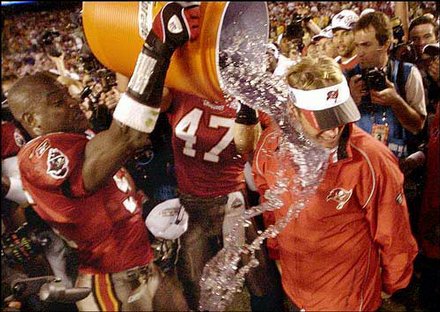 The reckless charge issued by former Raiders receiver Tim Brown, claiming that former coach Bill Callahan "sabotaged" the game and threw the Super Bowl to the Bucs, backed up by Jerry Rice on BSPN, brought both laughter and disgust to former Bucs great linebacker Derrick Brooks.
Brooks appeared with Joe's good friend, "The Big Dog," Steve Duemig, of WDAE-AM 620 Wednesday, and didn't hold back on what he thought about Brown's irresponsible charges.
"We beat them!" Brooks said between guffaws.
Brooks' took a more serious tone later when he admitted he and his Bucs teammates were offended by Brown's words.
"No one gave us anything. No one, as far as I'm concerned, sabotaged anything," Brooks said. "We went out and we earned that victory and we're celebrating 10 years later. If you look at our offense, their defense didn't stop our offense at all!"
The full interview can be heard by clicking the button below.