Bucs Have Yet To Speak To Ronde Barber
January 24th, 2013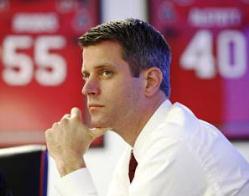 Tuesday night, Bucs rock star general manager Mark Dominik spoke with Alex Marvez, co-host of "Late Hits," heard exclusively on SiriusXM NFL Radio, to discuss the state of the Bucs. Included in the topics were Josh Freeman, Gerald McCoy and how the Bucs haven't talked to Ronde Barber about his immediate future. Oh, and in case Bucs fans were unaware, Josh Freeman is 24 (just turned 25, actually).
Alex Marvez: Your team showed some good improvement in the first year of Greg Schiano. Obviously, you fell short of where you want to be. You finished the season not quite where you want to be. How do you look back at the 2012 season?
Mark Dominik: I thought there was a lot of progress in our football team. Our record was not where we want it to be Alex, we finished the season 7-9 but there were a lot of bright spots. No. 1 team against the run, standout performances by some young guys and some veterans stepped up. Set some offensive records in rushing and receiving. Doug Martin came in and had a great season, capped off the Senior Bowl from last year. It is all about wins and losses and we are not quite where we want to be.
Marvez: I am glad you brought up The Muscle Hamster, Mr. Doug Martin, who is headed to the Pro Bowl, he was an alternate and Frank Gore is now going to the Super Bowl. Take us back here to the Senior Bowl last year. You obviously scouted him extensively before the Senior Bowl. What did he do that caught your eye here last year to form that opinion of him?
Dominik: Well a lot of it was his practice and his effort. All the pieces we had, like you said, going into the Senior Bowl, just like Lavonte David here last year. This is a really important event and we got two great football players from this event who started all 16 games for us last year and we look forward to this event. Hopefully we can have the same success. Those two players are really who we are building around for our future.
Marvez: Mark, I know you had to put a lot of [digits] on a check to get Vincent Jackson to come to the Tampa Bay Buccaneers from the San Diego Chargers. I think he was worth every penny, what an outstanding season. Talk about what you learned about this man and how he joined your team, what he brought to the Tampa Bay Bucs.
Dominik: Vincent was quickly a captain of our football team. An outstanding human being, both on and off the football field. Really immersed himself into the Tampa Bay area and got involved with the military as well. He has been a great mentor for our young players like Mike Williams and Arrelious Benn. He has helped the entire offense grow and he is a phenomenal football player when you think about all the passes he caught and he averaged almost 20 yards every time he touched the football. He has been a great weapon for Josh Freeman and that is why we put those two together. We are excited about Josh being 24 and all that he is doing and you match him up with a massive playmaker, and Mike Williams came off a big season so we are excited about what we have going on with our offense in Tampa. I think we will get everything going together. The NFL is tough but the NFC South is certainly tough and we have our work cut out for us.
Marvez: Josh had an incredible stretch at one point during the season and then dipped off a little bit toward the end, I know you had injuries on the offensive line and some other issues. How would you assess the positives and the potential negatives in the 2012 season for Josh?
Dominik: I thought Josh actually had — he set club records for passing in a single season and he is our all-time touchdown passing leader in Tampa Bay history being only 24 years old. There are a lot of positives I have for Josh going into the 2013 season and into the future. Again, he is going 24 years old. We are excited. Sure, he went through some tough spots during the season but our team did too. All flowed together really well. We finished the season on a high note when we played a really good football team [Dixie Chicks] that day and that was important. We finished a couple of drives and stopped a couple of drives at the end and that is important. We missed out on some wins because we didn't finish. We finished the season with a win and hopefully we can build on that for the 2013 season.
Marvez: Ronde Barber seems ageless. Playing at a high level. What is his status on the 2013 season? Have you had a chance to talk to him yet as a staff to see what his future holds?
Dominik: We haven't. We haven't had the chance to sit down with Ronde yet but we probably will sometime in early February and we will sit down with Greg, myself and Ronde and try to figure out what he wants to do and we will go from there. He played at another high level this year making the transition to safety and I think people tend to forget he is 185 pounds and he hasn't missed a start in 215 consecutive games. It's an incredible stat. It is a testament to who he is and how he keeps his body in condition so to be mentioned as an alternate to the pro bowl with a position change is really impressive what this guy has done in his football career.
Marvez: Love to see the development of Gerald McCoy, he's a great young man and has finally been able to stay healthy and show what he can do. What did you see from him in 2012?
Dominik: Lot of disruption again for us. He set a career high in sacks for us which, I know he can continue to build upon. In terms of negative yards, he was the driving force in why we were so strong against the run. We just have to improve again on the pass but Gerald was really disruptive big man. He's 6-5 and 305 pounds. He can really get upfield. He has great getoff. When you look at our defense, if we can get all of our guys healthy for next year, especially on that defensive front, I am excited about all of our defensive players.