Will Goodell Step In To Punish Adam Hayward?
December 17th, 2012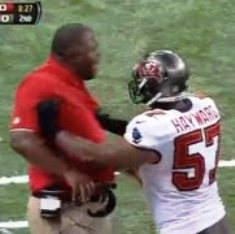 It's easy to say what Greg Schiano did yesterday after the Bucs-Saints debacle, that Adam Hayward shoving and taunting assistant coach Bryan Cox before television cameras was a heat-of-the-moment case between friends that is now closed and behind the club.
Well, Joe doesn't buy that, as Joe thinks committing a violent act against a coach — no matter how minor — is serious business. In fact, Joe thinks Hayward's deed should merit an extreme punishment, especialy since it violated two of three Greg Schiano tenets: trust and belief. So the third tenet, accountability, needs to be delivered in a big way.
Joe believes Roger Goodell, who's been known to be a Schiano-like micromanager when it comes to discipline across the NFL, is likely to get involved in Hayward's case — either issuing a punishment or behind the scenes.
The more Joe thinks about what Hayward did, the more Joe can't imagine it just gets swept under the rug. That can't happen.