The Bucs' Troubling Playoff Picture
December 4th, 2012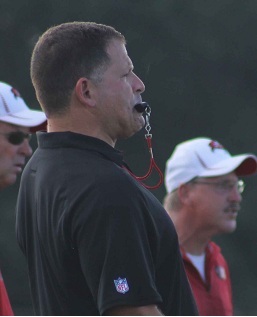 Damn, the Bucs took a punch in the gut this weekend — and with the Redskins' Monday night victory — as it relates to their playoff hopes and dreams.
At 6-6, the Bucs are a game back of Seattle in the hunt for the final NFC Wild Card spot, except now the Bucs are tied with the Vikings, Redskins and Cowboys. Sadly, the Bucs lose the usually critical head-to-head tiebreaker with Washington and Dallas.
Also, the Bucs now have one more loss in NFC conference play than Seattle and Washington. Conference record is one of the secondary tiebreakers after head-to-head results.
It's safe to assume the Bucs will need to win their final four and go 10-6 to get into the postseason. Except for Minnesota, their competition doesn't exactly have brutal schedules, and Seattle has three of its final four at home, where the Seahawks are always tough to beat.
SEAHAWKS (7-5) SCHEDULE
ARIZONA
@Buffalo
49ers
RAMS

VIKINGS (6-6) SCHEDULE
BEARS
@ Rams
@ Houston
PACKERS

DALLAS (6-6) SCHEDULE
@Cincy
PITTSBURGH
NEW ORLEANS
@Washington

REDSKINS (6-6) SCHEDULE
BALTIMORE
@Browns
@Eagles
DALLAS
It's one week at a time, and it's a good thing that the Skins and Dallas still must face each other. But the odds are flimsy that the Bucs land in the postseason with a 9-7 record.