Schiano Passes On Committing To Eric Wright
December 31st, 2012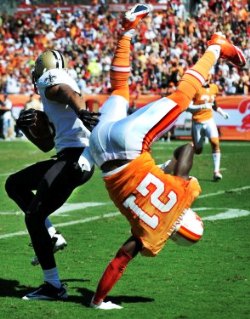 Just about anyone old enough to comprehend how the business end of the NFL works knows that Adderall-popping, spa-relaxing Eric Wright all but wrote his ticket out of Tampa Bay this offseason, short of reworking his contract to make it Team Glazer-friendly.
After getting busted for Adderall and being sentenced to a four-game suspension, a clause in his contract kicked in where Wright's second year of guaranteed money with the Bucs was voided.
Offered a chance to publicly state Wright is a Buccaneer Man, Bucs coach Greg Schiano passed this morning, which was basically saying Wright very well may go bye-bye.
"I can't tell you what his future is with the Bucs because that has not been determined yet," Schiano said.
Schiano offered no additional information about Wright.
Infer what you want with Schiano's words, but it is pretty clear Wright is, at best, on thin ice with Bucs rock star general manager Mark Dominik not to mention Schiano himself.