Report: Sullivan Sniffing Boston College Gig
December 2nd, 2012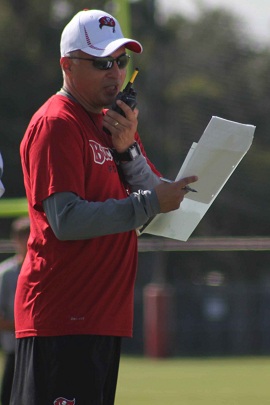 Perhaps fresh news from ESPN that Bucs offensive coordinator Mike Sullivan is interested in the Boston College head coaching job is merely a negotiating ploy by Sullivan and his agent to squeeze more money out of the Bucs.
That's about the best the Bucs could hope for.
More likely, Sullivan genuinely is interested in parlaying his success with the Bucs this season, and his solid resume, into a head coaching job — in college or the pros.
Joe wrote weeks ago that this was coming down the line, in regards to Sullivan becoming a head coach candidate. However, Joe never would have imagined Sullivan would have thrown his hat in the ring, as ESPN's Adam Schefter reported earlier today.
Joe expects Greg Schiano will be asked about this development after the game today, but Joe doesn't expect Schiano to say much. Sullivan is not made available to media on game days.