Report: Schiano Didn't Stick Up For Bryan Cox
December 18th, 2012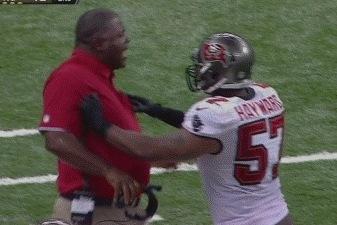 Just about every Bucs fan has seen the video by now, even if they didn't see it live. Backup linebacker (now thrust into the starting position due to injuries) and special teams captain Adam Hayward got into a physical confrontation with front seven coach Bryan Cox in the debacle in New Orleans last Sunday.
Well, if Eric Edholm of ProFootballWeekly.com is to be believed, Bucs coach Greg Schiano is siding with Hayward on the incident.
First-year Buccaneers head coach Greg Schiano apparently sided with the players in a sideline spat involving defensive assistant Bryan Cox in Sunday's 41-0 loss to the Saints, a source told PFW.

Cox was seen during the TV broadcast being pushed by LB Adam Hayward in the second quarter, and LB Jacob Cutrera also was involved in restraining Cox. But Sources say that Schiano sided with the players and told Cox that he would not be back on the coaching staff if he repeated his behavior.

Cox was yelling at officials as Hayward pushed the coach back to the sideline. Schiano added Cox to his defensive staff in February.
Now Joe has no idea what prompted the incident. Coaches and players getting into it — verbally — is nothing new. Happens just about every game. Big deal. But when a player goes after a coach, Joe doesn't care what the hell was said to provoke such a response. A player CANNOT physically get into it with a coach, under no circumstances.
If this happened in a closed practice or inside the locker room, no big deal. This happened in full view of a packed stadium, caught on TV. In other words, very public.
Thus, Joe demands a public penalty on Hayward. Even being benched for the first two series against the Rams is fine. The team has to do something publicly. This cannot be tolerated. From a "captain" no less!
The Bucs seem to be on the verge of imploding. Their first round draft pick, fourth-year quarterback has gone into hiding. The pass defense is just a rumor. A coward spouted off to Mike Florio about how bad the coaching staff is.
By not publicly rebuking a player for assaulting a coach, Schiano is risking a full blown mutiny on his hands. It's getting ugly.
With the team on the verge of a meltdown, turning your back on physically assaulting a coach in public is akin to lighting a match in a room full of gasoline.
The last thing Schiano needs is to lose this team. It seems to Joe there's a powder keg of unrest out there among the Bucs.