Josh Freeman Will Remain With Bucs
December 27th, 2012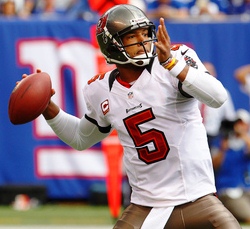 Bucs fans — and there are thousands of them — who want Josh Freeman jettisoned from the team after melting down the past month rather than leading the Bucs to the playoffs, Joe has unsettling news for you.
Per Bucs beat writer Woody Cummings of the Tampa Tribune, Freeman will be re-signed by the Bucs and will be your Bucs quarterback for the foreseeable future. Cummings explained while appearing with co-hosts Booger McFarland and Mike Pepper Monday on WHFS-FM 98.7.
Booger McFarland: When you look at this team as far as Josh Freeman is concerned, is there a sentiment of support not just in the locker room but from the staff since the staff did not draft Josh Freeman or are there questions starting to creep in about if we have the guy because we all know Coach Schiano is going to be judged by wins and losses and ultimately, that will lie in the hand of Josh Freeman?

Woody Cummings: I don't think there is any question that this organization is completely 100 percent behind Josh Freeman. It is why — I know it has become a hot topic and is driving the train with talk radio right now, should they trade him, should they sign someone to push him and all that stuff – you know what guys? In a lot of ways, I really think it is almost a conversation that doesn't have to be had. I don't think that conversation is being had in this organization in this building. I think that conversation about Josh Freeman in this building is, "What has he done wrong the past couple of weeks that he wasn't doing five weeks ago, three weeks ago, six weeks ago?" They are trying to figure out what is wrong. Going forward, he is this team's quarterback. There is no doubt about it. He will not be traded. He will be re-signed at some point. They might be thinking about pushing that to next year or maybe franchising him next year when the contract does expire; they've got those options. If anything, Freeman has cost himself the opportunity to sign a nice lucrative contract in the offseason, although that could change too. I promise you the organization at this point is not looking to replace him. They are looking to make him better and I think that is what they should do because, my personal belief is this kid – and I do mean "kid," he is only 24-years old and I understand he has a good collection of games in the league now and four or five years as a starter, it is about time to figure things out. He also had three offensive coordinators, one of which lasted all of 28 days and that messes with a kid too, and he is playing behind a makeshift offensive line and young players around him without a lot of depth at the wide receiver spot after the first two guys. The tight end situation probably needs to be upgraded a little bit as well. It's up to the coaches to make things better. He has the ability. I don't think there is anybody out there who can look at Josh Freeman objectively and say he doesn't have the work ethic or the talent or the skills or even the smarts to play this game at a high level. To me, the difference is becoming consistent and playing inconsistent. It is up to the coaches to refine those skills. Make sure he comes out every Sunday playing the same way and at a high level. I think it is on the coaches to get that done.
If it has already been decided among the brass at One Buc Palace that Freeman truly is here to stay, let Joe repeat this again: Now is the time to re-sign Josh Freeman. He has zero leverage right now. But of course, why would he buckle and sign now rather than wait a year?
If the Bucs are hellbent on keeping Freeman, make the contract incentive-laden. If various team goals are met (you know, playoffs, fewer interceptions?) Freeman is then awarded a handsome sum in bonuses.
Just remember that the longer Freeman struggles, cash that would have gone to him likely goes to keep Michael Bennett at One Buc Palace.