"It Took (Eli) Six Years To Learn The Offense"
December 19th, 2012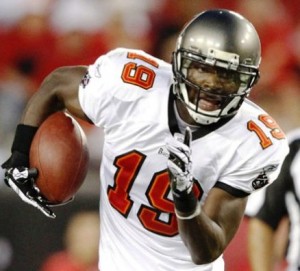 Joe is impressed. Josh Freeman's coaches and teammates have rallied to his defense better than Bucs corners have covered opposing wide receivers all season.
In particular, wide receiver Mike Williams was almost angry and certainly disgusted how a large number of Bucs fans have turned on Freeman after he has circled the drain regressing each of the past four weeks.
Williams had an interesting nuggett that sort of put Freeman's recent struggles into perspective.
"We run a certain team's offense," Williams said, referring to the Giants offense brought from New York by former Giants quarterback coach and current Bucs offensive coordinator Mike Sullivan. "The quarterback of that offense [Eli Manning] said it took him six years before he fully understood the offense. That quarterback now has two rings."
Very early this season, Bucs fans had the inclination that Bucs rock star general manager Mark Dominik should draft West Virginia quarterback Geno Smith in the first round in April.
Joe noted at the time that quarterbacks often have to be deprogrammed and reprogrammed to learn a new offense (and perhaps, the stain of Greg Olson's offensive offense needed further purging).
Given Manning's information, via Williams, perhaps Sullivan's offense is so complex and perhaps he is adding new dimensions to the offense so much that maybe it does take some time before Freeman, or any quarterback, fully grasps all the nuances.