It Appears The Crumbling Has Begun
December 17th, 2012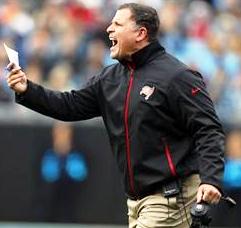 Joe wondered aloud yesterday, based on quotes from various former Bucs players, whether the New Schiano Order and it's "toes on the line" mantra would wear off once the Bucs are losing.
Well, it sure seems like it is. The Bucs have lost four in a row. Quarterback Josh Freeman has regressed terribly by the week over the past month and is below Blaine Gabbert standards, if you can imagine.
Then, during the 2011-like blowout shutout loss to the reeling Saints, linebacker Adam Hayward lost it and prompted a physical altercation with front-seven coach Bryan Cox, which in Joe's eyes is totally unacceptable on the sidelines. Unacceptable as in Hayward should find work for another team next season.
It gets worse. An unnamed Bucs player apparently went off on the Bucs coaching staff to the creator, curator and overall guru of ProFootballTalk.com, Mike Florio.
"Can we send these coaches back to college?" one player privately said after the game.
Well, Joe has a major issue with this. First, please explain how your babysitter drinking buddy NFL coach did last year? How's Jim Harbaugh doing? Or Pete Carroll?
This is just a loser mentality, no other way to put it.
Just do your job or ask for a release/trade Mr. NFL player (who is so upstanding, upfront, brave and honorable he declined to be identifed).
Joe's going to guess there will be another purge of players this offseason, guys who want to go MMA on the sideline with coaches and dudes who whine about "college coaches" yet grossly tanked games for an alleged NFL coach.